Bio-economy consultation meetings
Seeds-int is facilitating the introduction of the Bio-economy concept in Lebanon through the creation of a research unit called "Living labs" involving all stakeholders, from environmental and agricultural sectors, in the process. The aim of this "Living labs" is to identify Bio-economy related topics/projects that have a potential to be funded in Lebanon. The group of experts will eventually, through consultation meetings,  identify the objectives of the living lab and work on developing its terms of reference to meet the sustainability challenges of its implementation.
The first  meeting was held on the 13th of February 2015. The focus group sorted out threats facing sustainability and suggested potential topics and starting points towards a Bio-Economy in Lebanon.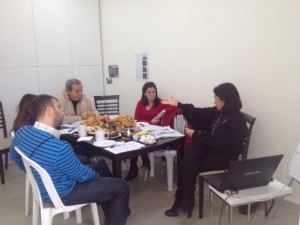 Social village consultation for the implementation of the 40 million forest trees in Lebanon
In the framework of the operational plan for identifying reforestation and afforestation sites in Lebanon, the EU-funded project, implemented by the Ministry of Agriculture in collaboration with the Agricultural and Rural Development Programme (ARDP) aims in one of its components to increase forest areas and identify public lands potential for reforestation.
Seeds-int is collecting the choices and the recommendation from the municipalities and other stakeholders involved in the process through social consultation meetings in the Lebanese villages. This includes the development of a flexible but traceable methodology for implementation by the Ministry of Agriculture throughout its reforestation activities.
National Forest Program
Seeds-int is assisting in drafting the National Forest strategy of Lebanon through consultation and facilitation of the technical team at the ministry of Agriculture.
The present include the technical empowerment of the technical team of experts at the ministry of Agriculture and the implementation and facilitation of regional consultation workshops held by the Ministry of Agriculture   for collecting the challenges and needs of the local population.
This is followed by the drafting of the national document for the sector strategy for the endorsement by the government of Lebanon.